World Federation of Acupuncture-Moxibustion Societies (WFAS)
WFAS was founded in November, 1987.Headquarter located in Beijing, it is an international academic organization that was authorized by the State Council of People's Republic of China, and registered by Ministry of Civil Administration.
In 1987 it has established the non- governmental official relations with World Health Organization. At present it has 76 association members from 44 countries(areas).
It's aim is to provide a platform for international exchange of Acupuncture, establish the standards of Acupuncture, organize international academic WFAS' Secretariat academic conferences, carry forward Acupuncture, promote the legislation of Acupuncture in the world, and develop Acupuncture education, as well as publish Acupuncture publications.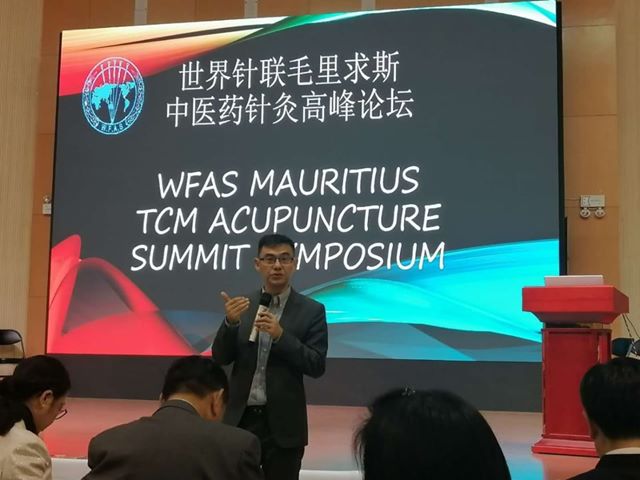 The Center provides short-term and long-term courses to both Chinese and international students on basic and advanced TCM/acupuncture-moxibustion on various subjects including theory, practice, special techniques, diet therapy, beauty care and health preservation. The International Department also receives request for customized program for groups. The principle for the trainings is to emphasize clinically practical skills through both the deepened understanding of theories and the perfection of techniques. The contents of training are mainly introduction of ideas and special therapies by well-recognized and experienced experts. The center aims to constantly contribute to human health by spreading acupuncture knowledge.
We were lucky to welcome the President – Prof. Liu Bao Yan and his delegates of 8 people to our centre. Main topics of discussion were the actual need of Acupuncture and Traditional Chinese Medicine in Mauritian lifestyle.
We also raised the need to guidance in smoking cessation, infertility treatment and alcohol/drug detox in the society.
The seminar was held at China Cultural Centre at Belle Village in the presence of High level officials of the Ministry of Health and Embassy of People's Republic of China in Mauritius.